Main content starts here, tab to start navigating
Menu
Organic Bread
Made with organic ingredients only and baked daily.
Our baguettes and loaves are naturally leavened with 36 hours of fermentation and shaped by hand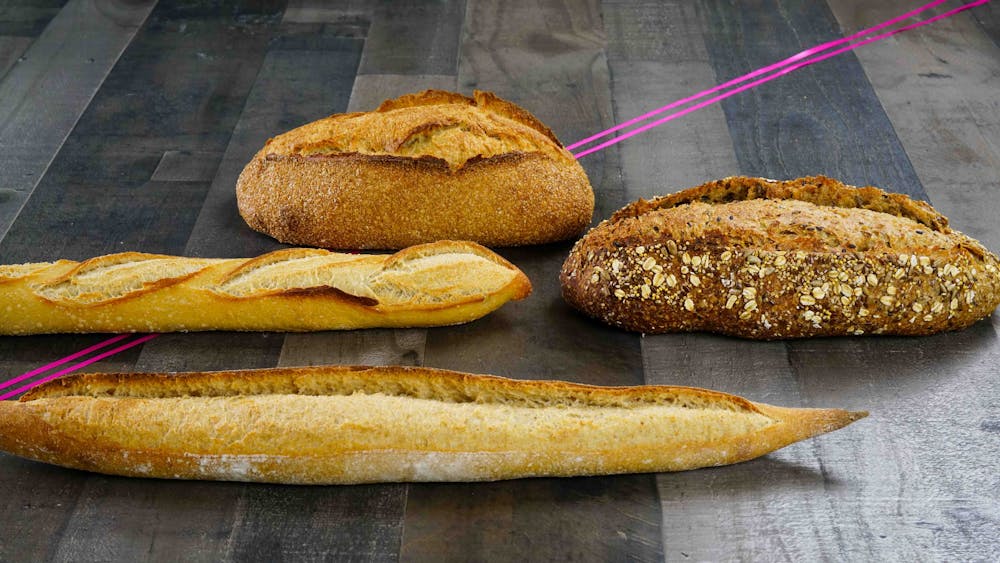 Baguettes
Traditional Baguette

$3.60

Rustic Baguette

$4

Sesame Baguette

$4.20

Super seed Baguette

$4.40
Loaves
Sourdough Loaf

$7

Super seed Loaf

$8

Sourdough Whole Wheat Loaf

$7

Struan Loaf

$7

Walnut Raisin Loaf

$8

Rustic Boule

$7
Viennese Pastries
Artisan made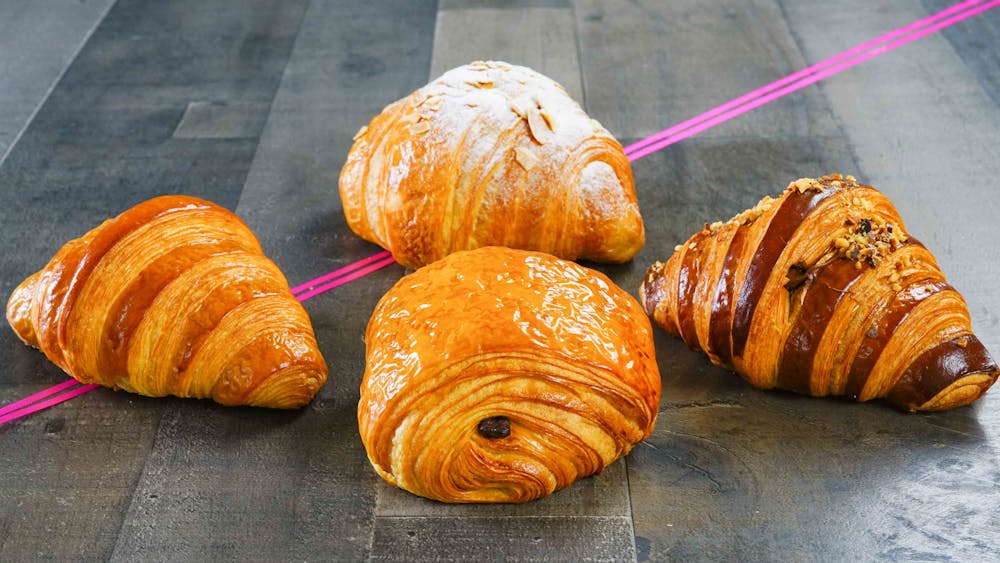 Plain Croissant

Artisanal fluffy, flaky and buttery taste

mini $2.05

single $3.40

Chocolate Croissant

Croissant rolled around dark chocolate

mini $2.05

single $3.60

Almond Croissant

Croissant dough filled with almond cream and topped with sliced almonds

$4.50

Nutella Croissant

Croissant filled with Nutella and roasted hazelnuts on top

$5.50

Pumpkin Spice Croissant

Flaky, buttery croissant with homemade pumpkin filling. Seasonal: Oct 1- Nov 30

$4.90
Cinnamon Roll

Cinnamon roll made with croissant dough and topped with pearl sugar

$4.20

Apple Danish

Croissant dough shell with an apple caramel center

$4.20

Raisin Bun

Roll of croissant dough, pastry cream, and raisin

$4.20

Kouign Amann

Crispy buttery caramelized puff pastry

$4.20

Mini Viennese

Mix of mini Viennese

Pack of 10 for $18.50
Sweets
A mix of French and American delights to go with your coffee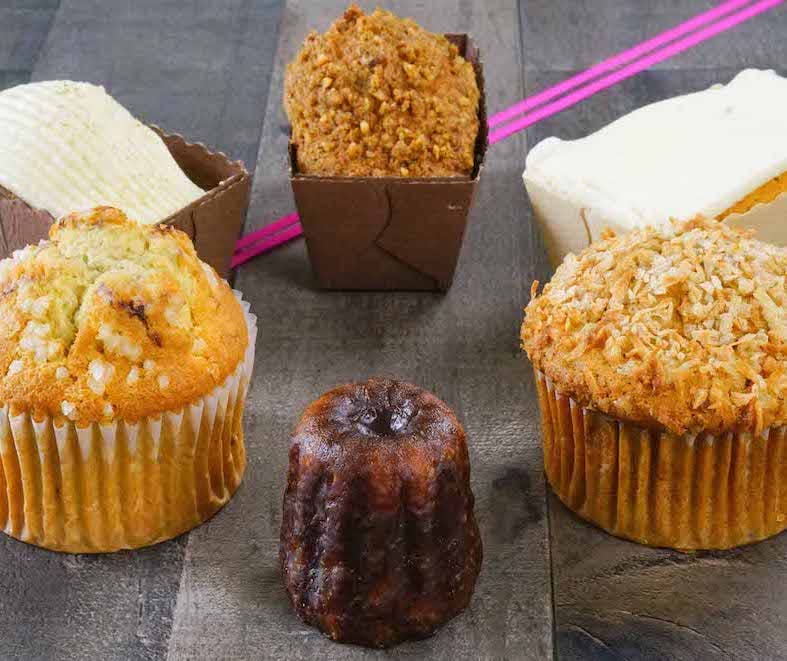 Brownie

Chocolate cake with a fudge texture

$4.40

Chocolate Chip Cookie

Soft chewy cookie with melting chocolate chips

$3.10

Cannelé

Small custard pastry flavored with rum and vanilla, with a soft and tender center and dark, caramelized crust

single $3.50

Pack of 3 for $9.90

Madeleine

Small sponge cake with a shell-like shape

single $1.20

Pack of 5 for $4.15

Rocher Coco

Crunchy coconut ball with a sweet and soft heart

$3.50
Morning Glory Vegan Muffin

The great taste and chewy texture combination of carrots with flavors of apple, raisins, coconut, and cinnamon

$3.75

Blueberry Muffin

Sweet, moist cake with blueberries topped with sugar and lemon zest

$3.75

Blueberry Cream Scone

Light and soft leavened bread filled with blueberries

$3.75

Chocolate Cream Scone

Light and soft leavened bread filled with chocolate chips

$3.75

Sweet Pumpkin Bread

Pumpkin bread with a zest of bourbon and a delicious cream cheese frosting

single $3.30

Sweet Lemon Bread

Delicious lemon cake with a lemon frosting

single $3.30

Sweet Banana Walnut Bread

Banana sweet bread topped with walnuts

single $3.30
Pastries
Made with love, our individual pastries bring out the very best in you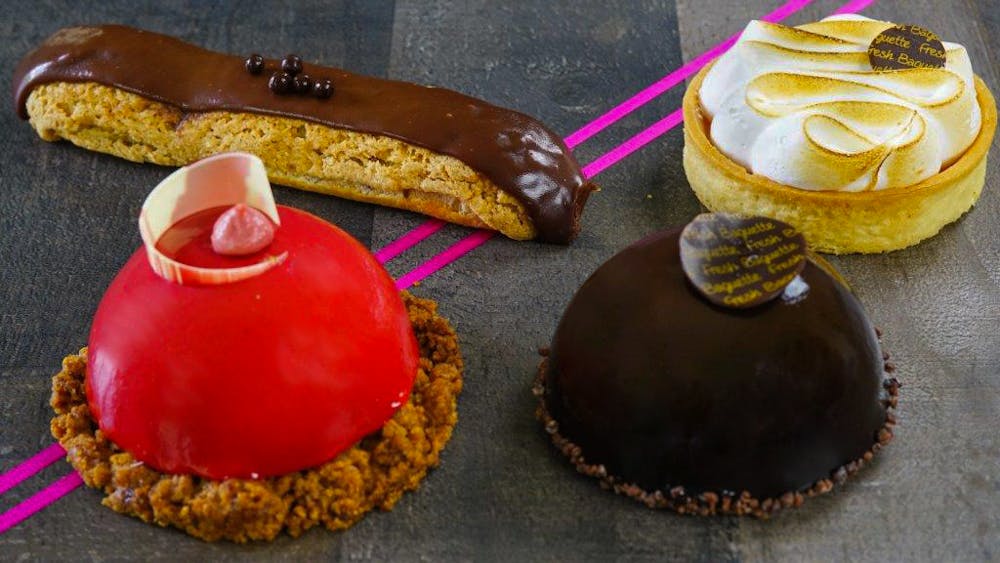 Black Forest Macaron

mini $2.10

Chocolate Caramel Tart

mini $2.10

Chocolate Eclair

mini $2.10

single $6.40

Napoleon | Millefeuille

Delicate layers of puff pastry and vanilla custard made with Madagascar bourbon vanilla beans

$7.40

Strawberry Delice

Strawberry mousse surrounds a fresh strawberry sauce layered with brown butter financier, almond streusel, and glazed to berry perfection

single $7.40

large $48.90

Pumpkin Cheesecake Mousse

Pumpkin cheesecake mousse filled with confiture de lait (dulce de leche). Topped with chocolate leaves on a graham cracker crust. Seasonal: Oct 1- Nov 30

Single $7.40
Raspberry Tart

Soft Sable Breton layered with cream and garnished with fresh raspberries.

mini $2.10

single $8.10

large $48.90

Normande Tart

Shortcrust pastry-based apple tart filled with sauteed apples and topped with a creamy egg custard

single $6.40

large $36.95

Lemon Meringue Tart

Crusty pie crust filled with lemon cream and covered with a soft meringue

mini $2.10

single $6.40

large $36.95

Opal Noir

Milk chocolate mousse covers an intense dark chocolate cremeux and flourless chocolate sponge with crunchy surprises

single $7.40

large $48.90

Mini Pastry Assortment

Mix of mini pastries

Pack of 10 for $19
Sandwiches & Cro'gels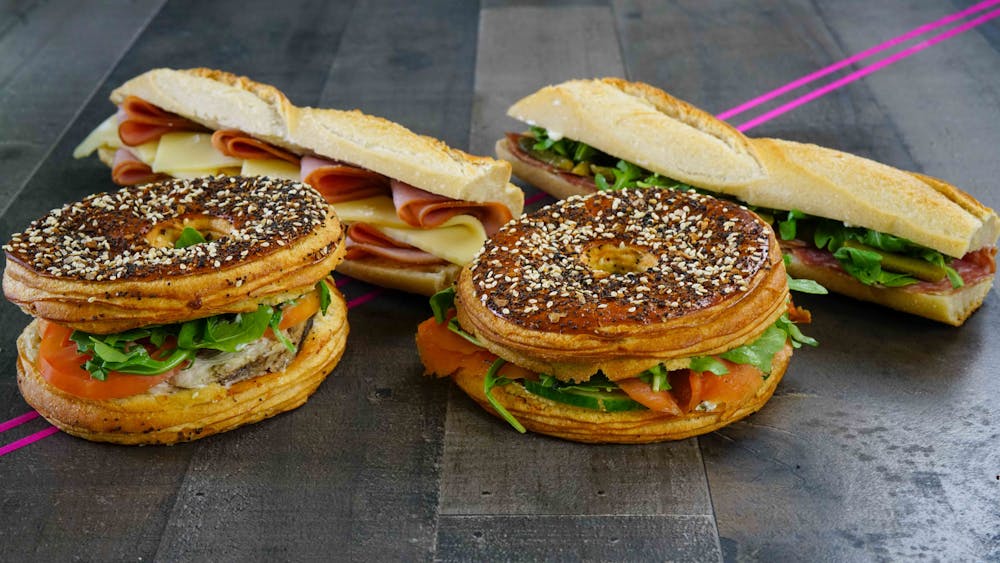 Baguette Sandwiches
Our sandwiches are made with fresh ingredients and served in a delicious baguette
Traditional

Traditional baguette, salami, arugula, butter, and cornichon

$10.20

Parisian

Traditional baguette, ham, swiss cheese, and butter

$10.20
Cro'gels
Croissants are delicious. Bagels are tasty. So we shaped the croissant dough into a bagel and voila! The Cro'gel was born.
BREAKFAST LE SUD

A bacon omelet, tomato, avocado, and arugula

$10.90

NORWEGIAN

Smoked salmon, cucumber, cream cheese, and arugula

$11.90

VILLAGE

Chicken, tomato, mayonnaise, and arugula

$10.90

TM PESTO

Tomato, mozzarella, pesto, and arugula

$10.90
Savories
Looking for an alternative to sweet? Try these very satisfying savory treats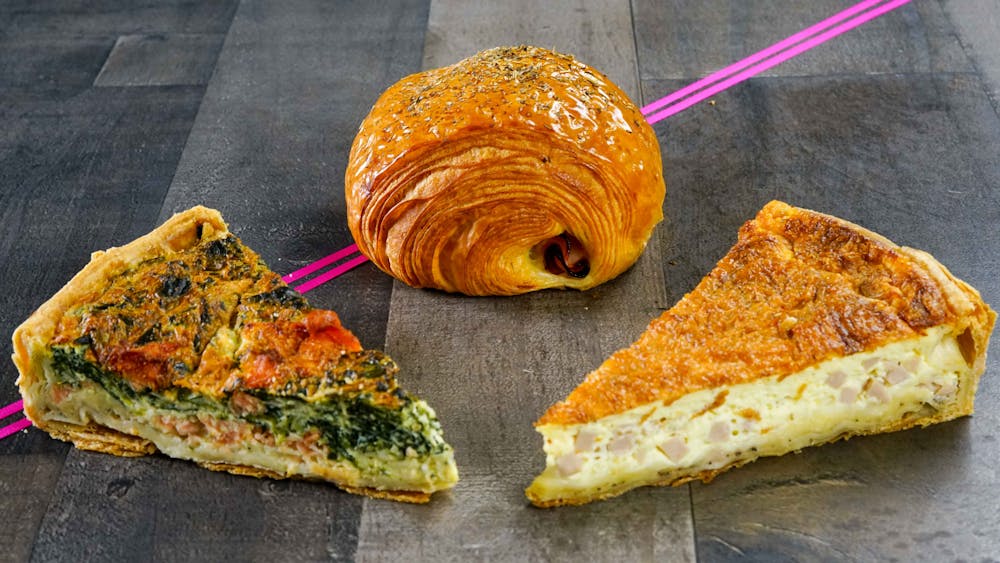 Roasted Vegetable Quiche

A savory summer quiche filled with eggs, melty feta cheese, fresh butternut squash, yellow squash, zucchini, red peppers, and red onions.

slice $10.50

whole $59

Spinach Salmon Quiche

Quiche with spinach and smoked salmon

slice $10.50

whole $59

Quiche Lorraine

Quiche with Swiss cheese and ham

slice $10.50

whole $59
HAM & CHEESE CROISSANT

Croissant dough rolled around ham and swiss cheese

$5.70

Ham Croque Monsieur

Slices of white bread with ham and melted cheese

$8.50
Ciabattas
Pepper, feta, & olive ciabatta

Ciabatta with homemade tomato sauce, feta, roasted red peppers, tomatoes, and black olives.

$10.50

Bacon & onion ciabatta

Ciabatta with savory bacon, onions, and sour cream.

$10.50
Beverages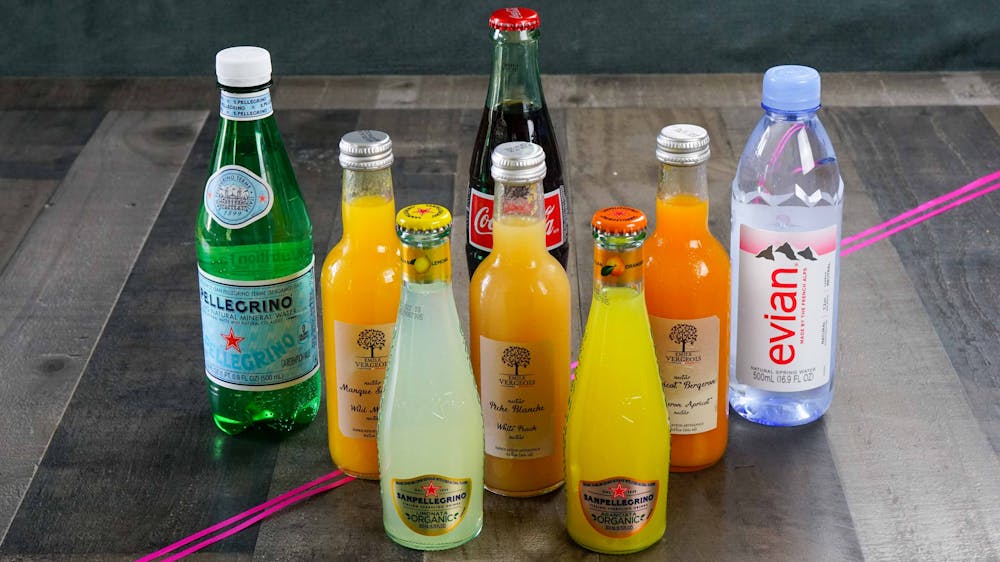 Hot
Americano

Medium $3.60

Large $4

Latte

Medium $4.40

Large $4.90

Cappuccino

Medium $4.30

Large $4.70

Espresso

Single shot

$2.65

Double shot $3.30

Three shots $4

Caramel Macchiato

Medium $5

Large $5.40

Hot Cocoa

Medium $4.75

Large $5.30

Tea Selection

$2.50
Cold
Coca Cola

$2.60

Coca Cola Diet

$1.60

San Pellegrino Juice

$1.60

Evian Water

$2.20

Apple Juice Tropicana

$3.60

San Pellegrino Water

$2.20

Fresh Artisanal Juice

$5.20